Tour 1: Sunday 10th - Friday 16th September 2023
Tour 2: Sunday 17th - Friday 23rd September 2023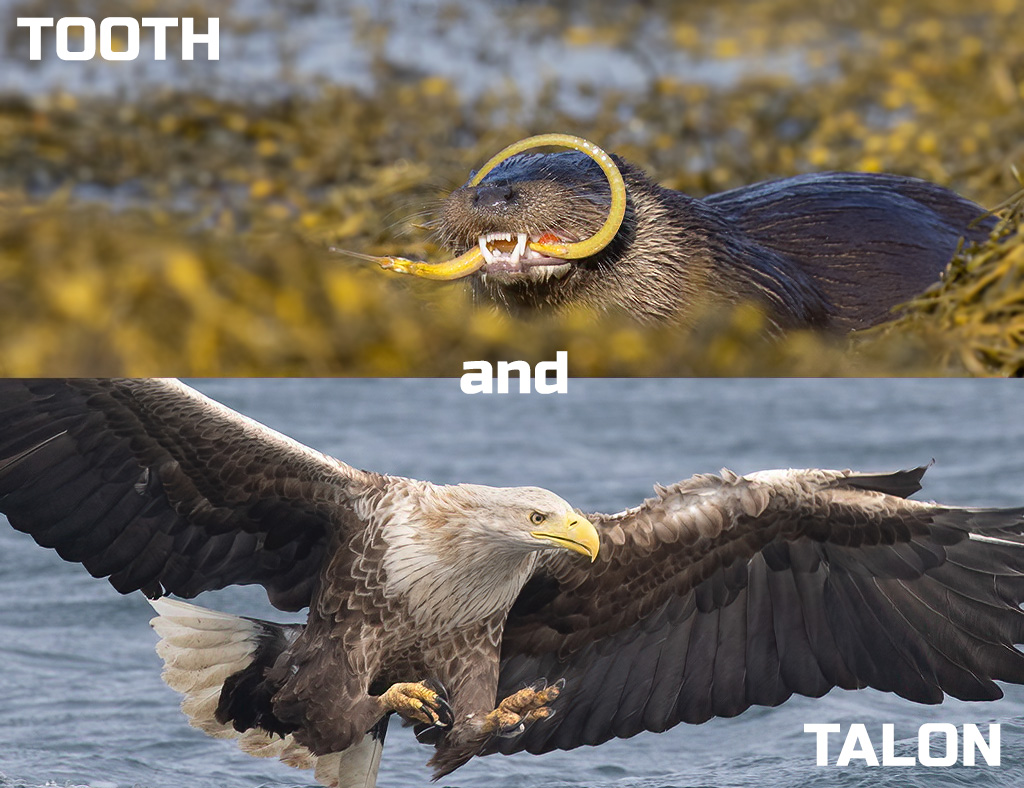 Tooth And Talon
Andy Howard and Pete Walkden are now offering a five day tour based on the Isle Of Mull, targeting two of the most-wanted species of wildlife found on the island:
Otters
White-tailed eagles
This fully-catered, residential tour will run over a two week period in September and include four private trips with Mull Charters to photograph the majestic white-tailed eagles, with the remainder of the tour focusing on otters.
Guests will be staying in a modern detached house, featuring a mix of contemporary and traditional furnishings, with stunning coastal views all around. Each guest or couple will have their own bedroom and private or ensuite bathroom.
Every morning will begin with a hearty breakfast, a delicious packed lunch will be provided to keep you going, and a home-cooked dinner will be served once everyone has returned from their adventures.
The group will be divided into two for the otter sessions, to minimise any possibility of disturbance, but will merge back to one again for the white-tailed eagle trips. Both Andy and Pete will be available to help with photographic issues and to advise on fieldcraft, and for suggestions for the images to be strived for, from each encounter.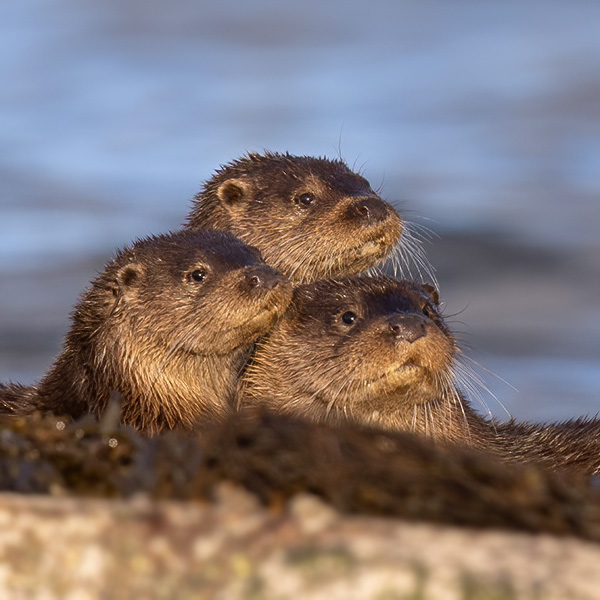 Otters
Mull is one of the best locations in the UK to see wild Eurasian otters, but despite there being rumoured to be one for every 305 miles of coastline, they can still be elusive to find and photograph.
With over twenty years of experience of tracking and photographing otters between them, Andy and Pete will teach you how to look for signs of the otters, how to spot them, how to approach and the best techniques for their photography.
Not only that, you will learn about the otters' behaviour, habits and habitats during the tour.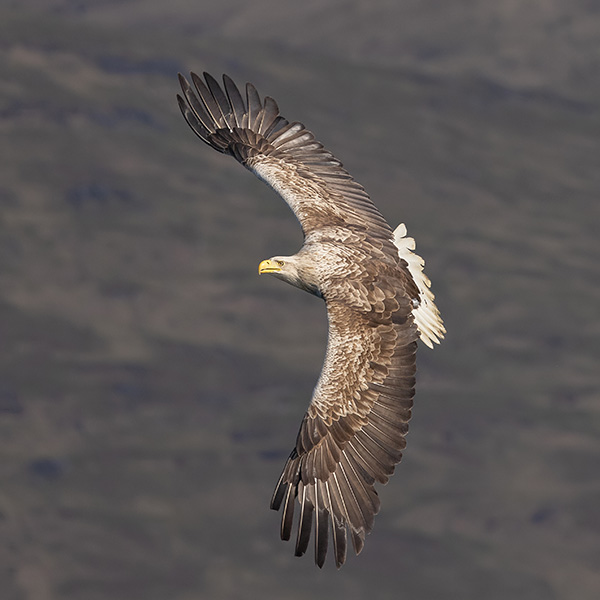 White-Tailed Eagles
During their reintroduction programme back to the UK, the white-tailed eagles chose Mull as their preferred home, and it is now most certainly the number one spot for watching and photographing these huge raptors.
While the eagles can be seen and encountered around Mull, the best way to get up close and to see how incredible these birds are, is aboard the Lady Jayne boat, on a tour with Mull Charters.
Andy and Pete have been working with the crew of Mull Charters for years now, and have a great relationship with them, so each trip is something to remember and enjoy. The crew will do their utmost to put the boat in the optimum location for taking photographs of the eagles as they soar overhead and swoop down to collect a fish.
The tour will feature four private trips with Mull Charters. Each trip lasts towards three hours and should see several visits from the eagles. Andy and Pete will be on hand to advise on the best shots to aim for, what settings to use on your camera, and be constantly reviewing images to ensure the best results are achieved.
Itinerary
The itinerary is subject to change according to the weather forecast for that week. The trips out with Mull Charters will dictate how each tour runs, as they are most affected by conditions.
It is hoped that one of the trips can be run late in the day, to enjoy the best light available for photography.
Sunday - Arrival on Mull, meet and greet at the accommodation over dinner, prepared by the hosts.
Monday - First of four trips out to photograph white-tailed eagles. Remainder of the day will be spent looking for otters.
Tuesday - An early start and the whole day out exploring Mull in search of otters.
Wednesday - Two trips out to see the white-tailed eagles.
Thursday - Another full day out looking for otters.
Friday - After packing up at the accommodation, the tour ends aboard the Lady Jayne for our final trip.
Included
All transport once on Mull.
Accommodation.
All boat trips.
All guiding and tuition - patient and courteous help and advice when and where it's required.
Breakfast, Lunch, Dinner, Soft drinks and snacks.
Not Included
Alcoholic drinks.
Items of a personal nature.
Travel/Cancellation Insurance.
Travel to Mull.
Equipment
Waterproof, windproof, quiet, dark-coloured clothing.
Preferred support for camera, e.g. bean-bag.
Quiet weather-proof cover for camera.
300mm minimum lens for full-frame camera.
Price: £1995 per person
A non-refundable deposit of £395 will be required at the time of booking.
The Balance will be due six weeks before the first day of the tour.
Maximum Group size: 6.