Mull Wildlife Photography Workshops
Join Mull-based Pete for a bespoke Wildlife Photography Workshop, focusing on otters or any other species that calls the island home.
2021 Availability: Workshops in late October, November and December.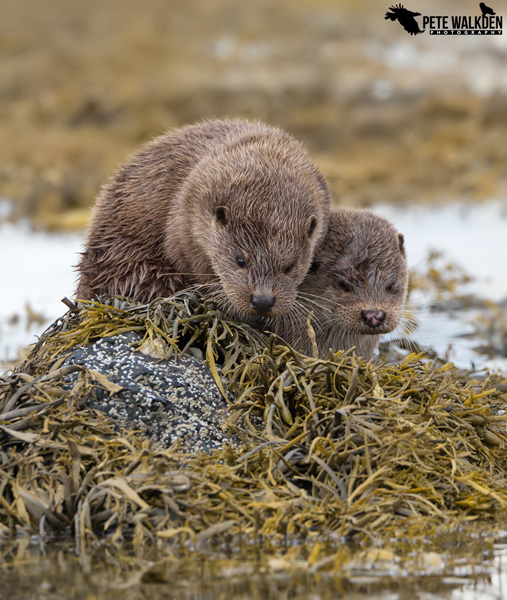 Otters
With over 300 miles of coastline, Mull is one of the places in the UK to see otters, and Pete knows some of the very best locations on the island to see these often elusive mammals.
As well as knowing where the otters' territories are, he also knows the signs to look for when determining if otters are around, how to spot them (in all weathers), and most importantly, how to approach and observe them, without scaring them away.
When tracking otters, you may be climbing over slippery rocks and through seaweed, so be sure you are confident in doing this before booking such a workshop. You may also have to crouch for periods of time, in all weather conditions, so bear this in mind too! It is worth it though, to see these creatures close up.
While Pete is willing to take bookings for otter workshops for just one day, he recommends at least three days, to increase the chances of experiencing a special encounter, or "Golden Ticket" moment with one or more otters.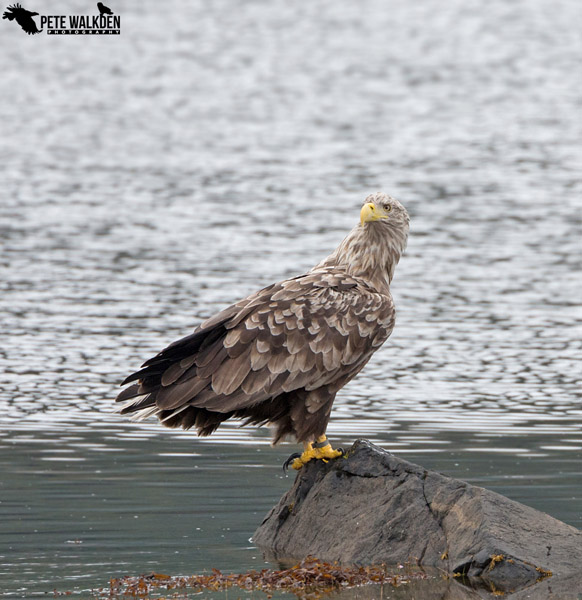 White-Tailed Eagles
Having watched and photographed white-tailed eagles on numerous occasions, Pete can take you to the best spots on Mull to see them, and if the trips are running, include the Mull Charters' boat trip (at the additional cost for the trip) as a part of the tour.
This is one of the finest wildlife experiences in the UK, and is something he tries to experience several times each year, as it always throws up something of interest.
Pete can advise you on how to photograph these magnificent birds from the boat trip, including camera settings and what gear to bring aboard. And with over twenty pairs of white-tailed eagles nesting each year on Mull, plus juveniles and sub-adult birds around, there's always a good chance of encountering them whilst touring around the island.
White-tailed eagles are the UK's largest resident eagle, with (on average) the world's largest wingspan for an eagle. Nicknamed the "flying barn doors" they're an impressive sight on the wing.
Puffins
From April to the end of July, Pete can accompany you out with one of the tour operators to the Treshnish Isles where you will encounter a wonderful array of seabirds, including the charismatic puffin.
Puffins breed on both Staffa and Lunga, and photo opportunities are available on each island, with Lunga being the main location for these birds.
Pete will guide you on what sort of images you might try to obtain from the trip, including portraits, behavioural and flight shots, with advice on the settings required for each.
In addition to the puffins, you may see guillemots, razorbills, kittiwakes, fulmars, shags, skuas, ravens, wheatears, and even corncrakes.
During the early part of the season, Lunga is carpeted with bluebells, which can add a splash of colour to the image.
The footpath at Lunga leads right through the puffin breeding colony, so offers the visitor a wonderful view of these comedic seabirds as they dig out and line their burrows, court one another, fight off rivals, bring in their catches, or simply perch around, enjoying the views.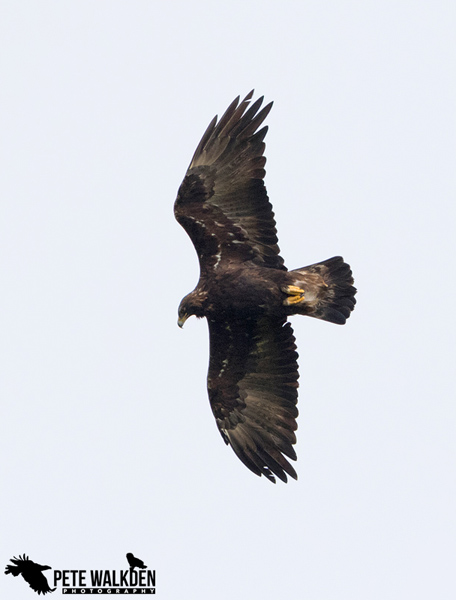 Golden Eagles
Mull also has a very healthy population of golden eagles, though these huge raptors are usually harder to spot and photograph than their re-introduced cousins. That said, Pete knows of several locations on the island where you're more than likely to get a good view.
While nothing is guaranteed with these birds, Pete has enjoyed some wonderful encounters with golden eagles in recent visits, and would hope to continue this with you during a tour. Just seeing a golden eagle is such a memorable moment!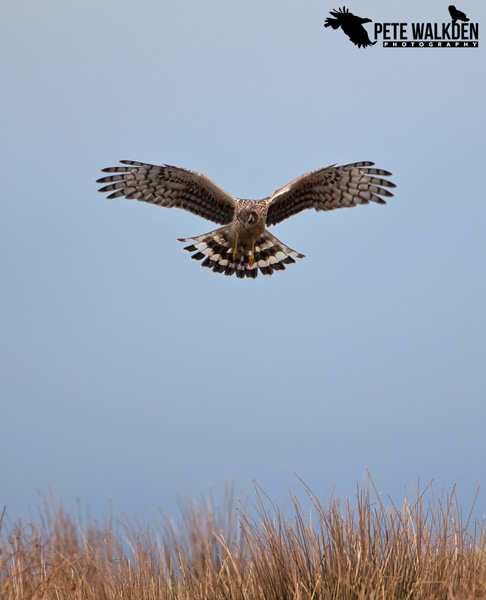 Hen Harriers
Without ground-nesting threats such as foxes or badgers on the island, and no illegal persecution from humans, Mull offers these otherwise threatened raptors a safe haven, and hen harriers thrive on the island.
That said, they can still be difficult to see, though Pete can take you to some good locations to increase your chances of seeing them.
Both favoured hunting grounds and roosting locations will be watched to see the elegant birds of prey, and depending on the time of year, the dramatic skydance courtship display might even be encountered.
Other Species
Red deer
Common and grey seals
Waders such as curlew, whimbrel, greenshank
Divers
Short-eared owls
Merlin
Peregrine falcons
Sparrowhawks
Kestrels
Buzzards
Irish hares
Migrants such as whinchats, wheatears, spotted flycatchers, corncrakes
Residents such as stonechats
Adders
Included:
Advice on clothing for the tour plus what photographic gear to bring along.
Transport around Mull in all weathers in a 4x4 vehicle.
Collection from your accommodation, and drop off at the end of each day.
Snacks and drinks throughout the day.
Instruction and guidance for approaching the wildlife.
Assistance with any camera settings if required.
Public liability cover via professional photographic insurance policy.
Not Included:
Accommodation.
Transport to and from Mull.
Photographic equipment.
Fee:
£250 per day for 1-to-1, £350 per day for 1-to-2
Fee does not include additional cost for workshops involving boat trips. Pete will advise on overall cost per day based on the trip involved.
Maximum of 2 clients permitted for otter photography
A non-refundable* deposit of £50 per day must be paid at time of booking.
Balance to be paid 6 weeks before booking date.
Discounted rates available for multiple day workshops. Email for details.
Workshops involving boat trips need to be booked well in advance so as to guarantee a place. Such trips are also likely to be cancelled by the operator at short notice because of the weather, in which case Pete will offer an alternative workshop.
*Refunds will be issued in the current situation with the CV19 pandemic.
Marianne & Malcolm
---
Hi Pete,

Thanks to you for being such a cheery guide! Not only did we enjoy the wildlife and the landscapes, we also had fun spending time with you. We thought we would have posted something already, but we have so many photos its taking some time to sort through! But we will post fairly soon and tag you when we do!

We wish you a good summer season!

Regards,

Malcolm & Marianne
Ruth R
---
Many thanks for all the effort and patience yesterday, I had a great time. Especially lovely to see the otters playing again. I shall sort out a couple of pics over the next few days and send them to you; hope you are enjoying your holiday,seeing lots of hen harriers I hope. May your Unkindness of ravens turn into a Convocation of eagles…(looked it up! )

Best wishes,

Ruth
Mull Workshop FAQs
1
Are workshops available all year?
Now that Pete is a resident of Mull, workshops can be booked throughout the year.
2
What is the duration of a workshop?
Pete can offer single or multi-day workshops. Days can be split into halves, if desired, and if Pete has available time to do so.

In terms of each day, then the workshop can start early morning and last until the evening. It depends on the subject. Otter workshops tend to be based on tide times. Workshops for birds such as short-eared owls might begin mid afternoon, and extend until dusk.
3
Are subjects only available at certain times of the year?
Yes. Puffins for example are only around on the Treshnish Isles from late April through to the end of July. Raptors such as short-eared owls and hen harriers are more active and hence visible when they're breeding, so workshops targeting these should be booked during their breeding season. Pete can advise you on this.
4
I want to photograph white-tailed eagles, which trip with Mull Charters do you arrange?
Based on cost and reliability of the trip, the standard "Sea Eagle Adventure Wildlife Trip" is booked. This is because if the weather allows a sailing, then the trip will run, and there's a very good chance of seeing the eagles.

Please note, this is not a Photo Special Trip, so conditions for photography might not be perfect. If this concerns you, please let Pete know when you're booking the workshop, and he'll see if he can register you for a Photo Special instead, at a higher cost to you, and with the risk of the trip not being run.
5
Can I go on a Photo Special for the white-tailed eagles?
If the idea of the standard trip doesn't appeal, then you need to tell Pete, when you're booking the workshop, that you want the Photo Special.
However, you must also be aware that these trips are not guaranteed to be run when you're on Mull, so you might not see any eagles. They are only run if conditions suit, and they have enough people interested. Also, if too many people are registered, as they're run on a first-come-first-served basis, there might not be room for you to go out.
6
Can I book a private charter with Mull Charters, as a part of my workshop?
Yes, of course, if they have availability. Pete will ask for you, and confirm if the trip can be run. Bear in mind that this will be costly - significantly more than the standard trip.

Also, please note that this is still effectively the same trip as the standard wildlife trip, albeit with fewer people aboard.
7
What happens if the wildlife doesn't show up during a workshop?
Pete will do his utmost to find whatever subject you want to photograph during the workshop, but if it fails to show, or the weather is poor, or luck is against you, nothing much can be done. Unfortunately this is part of the "joy" of wildlife photography.
8
What happens if a third party trip is cancelled during the workshop?
If the weather or some other reason means the operator of a trip booked as a part of your workshop cannot provide the trip, then the cost of the trip will be refunded in full to you. Pete will substitute something else into the workshop if desired, to ensure the time isn't wasted.
9
What do I need to bring for a workshop?
Pete will send you a checklist of suggested items for a workshop, which covers off most of the subjects photographed on Mull.
10
How fit do I need to be for a workshop?
At the time of booking a workshop, please convey any fitness concerns you have to Pete. Typically for otters, you might have to scramble over slippery rocks or along a shoreline, so you need to be able to do that, and also sit or lie down, often on uncomfortable ground to get the images.

The puffin trips can also involve a small amount of clambering over wet rocks when the boat arrives at Lunga. There is also a short but steep climb up to the colony of puffins.
11
How much is a workshop?
Please see the section for costs above. The daily rates for one or two people are detailed, as is the possibility of gaining a discounted rate.
12
Are midges a problem during workshops?
If the weather is calm and warm, from mid-May until September, then yes, midges may be an issue. Pete recommends Smidge as a product to be worn to help prevent bites, though it's not any sort of guarantee - the buggers find somewhere to bite eventually!
Driving, head to either Oban or Lochaline, and take the ferry over. Public transport, ideally take a train to Oban, and then walk over to the ferry terminal (across the road) to take that to Craignure on Mull.

Mull has buses and taxis if needed.
14
What accommodation is available on Mull?
Mull has plenty of hotels, B&Bs, campsites and hostels, but please try to book early, as they fill up rapidly. Watch out for cancellations though, as you can grab a bargain, late in the day.
15
Do you provide accommodation for workshops?
No. Clients are expected to source their own accommodation and make their way to it. Pete can collect you from your accommodation for the workshop, but he's based in the north of Mull, so if you book somewhere at the other end of the island, he may arrange a meeting place instead.