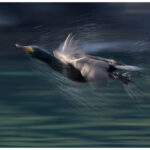 August 2023
27th September 2023
In July, I finally packed what was left on Mull and moved to the Highlands, to my new house in Inverness. So it's perhaps right that this month's image comes from a trip off island, to the Highlands, where I tracked down a rare shrike on the Ardnamurchan peninsula.
Shrikes have a special place in my heart, as it was a great grey shrike that helped reignite my passion for wildlife photography after the death of my mother in 2010. So when I can go look for one, I do.
This one was a new species, and had been seen around some meadows across the water from Tobermory. Shamefully in all the time I've spent on Mull, I hadn't visited Kilchoan, so better late than never. It's a beautiful area, and clearly has an abundance of wildlife. Whilst waiting for the shrike to show better, I enjoyed distant views of a female hen harrier hunting behind some cottages, and later in the day, watched a golden eagle soaring over the hills.
With the warm temperatures that day, the shrike would need to be fairly close, and after a few hours of waiting, it finally flew over the meadow to use the fence posts beside the road to hunt from. I was able to get into a spot where the backdrop was a row of conifers and help highlight the detail of the shrike.
Given the rarity of it, I also posted this image on to Bird Guides, the first post for way too long... and it was awarded a Notable for the week. Nice!
So the choice for July is this, a Steppe grey shrike.