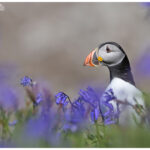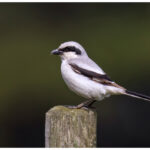 July 2023
21st August 2023
An image that almost stole the prize for May was a panned image of a puffin in flight. It's a technique I've been playing with a lot of late, made considerably easier by the incredible AF systems in these mirrorless cameras these days. That said, it's still hard to get a decent workable image.
After spending another magical day on Lunga, we were sailing back and I couldn't help but notice the shags flying all around the boat, and given the calm conditions, I thought it might be worth trying the panning technique on them. A bit trickier given the slight movement from the boat and me trying to balance on it, but worth a go.
The easiest shots were when the shags flew pretty much alongside the boat, in parallel, but I also had a go at ones flying past us, in the opposite direction, and it was one of these that created the most interesting image. Just as it was passing by, it shook the water from its feathers, and the resulting image gives the impression that it's perhaps breaking the sound barrier or something. Certainly conveys movement, which is the aim for such images. 
Canon R7 RF100-500mm, 500mm, f/10, ISO 100 at 1/80th. I had to stop down to f/10 because of how bright it was, to get the right shutter speed.