August 2023
27th September 2023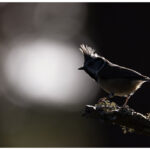 October 2023
21st November 2023
September saw me go on a holiday, to both catch up with family and friends, and also take something of a break from wildlife photography. I think, by being based on Mull, I had become so focused on it, I had pretty much forgotten who I used to be, and what I used to enjoy doing away from it.
So I got on the road, headed south to the Midlands, then Somerset, Devon and down into Cornwall where my brother, who used to live with me on Mull, had relocated to. It was during those few days in Cornwall where I rediscovered my love of exploring places, and combined it with wildlife photography again.
Using my Bird Guides app, I saw that a few rare birds had been seen around the county, so picked a couple of places near to St Ives where I was staying, and drove out to them. I visited Hayle and Marazion, and it was at the latter that I saw a shrike. At the time, another birder identified it as a juvenile red-backed shrike, but this was soon corrected to a woodchat when I posted an image on social media.
Because I was holidaying, and because it wasn't for wildlife photography, I hadn't taken my big prime lens along, and "just" had my RF100-500mm lens. But I did have my 1.4TC in the bag too, and because the shrike was mostly at a distance, I bolted it on the lens. I was also using my Canon R7, so I had effectively 1120mm hand-held, albeit at f/10. That said, it was a bright day, so it didn't have any problem focusing, and as can be seen here, tracked the bird when it flew off from a perch.
I also managed to photograph an osprey and hoopoe on my travels down in Cornwall, plus some other species at reserves around England and Wales, where I visited at the end of my trip.
The trip was a joy, even though I did drive almost 2000 miles. It was lovely to see family and friends, some of whom I'd not seen for months if not years. I had a break from just doing wildlife photography and rediscovered my love for exploring places, which is just as well, as being based in the Highlands of Scotland now, I have so many new areas nearby to investigate, and I intend to over the coming months.
So this month's image is of a juvenile woodchat shrike, taking off from a prickly perch, taken on a break away from wildlife photography.