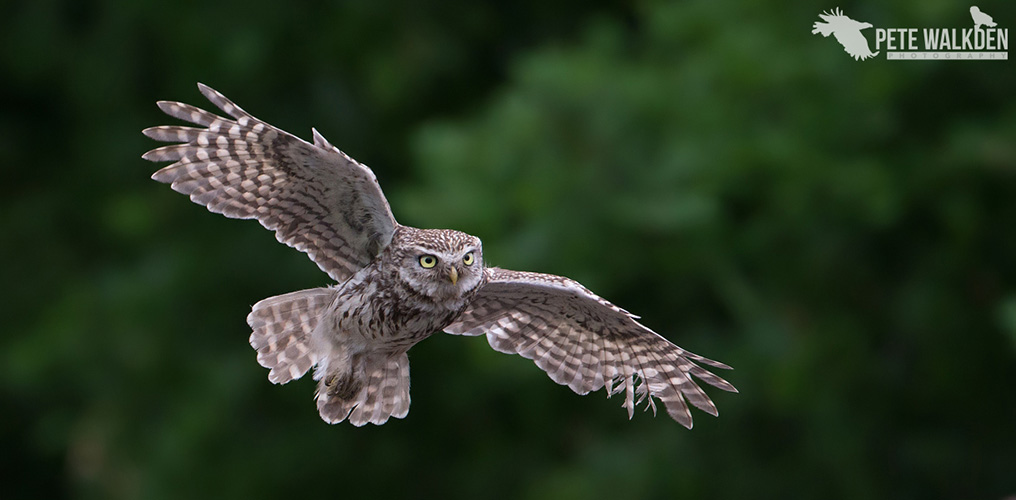 Join Pete Walkden for a day of little owl photography at his Little Owl Workshop. Pete has been photographing these wild little owls now for several years, and has enjoyed success with getting images of the owls in flight, running around on the barn roof, and posing on various perches around the farm.
Once booked for a workshop day, you will have exclusive access to the owls, with Pete at hand to help set up images, and encourage the owls out for you, during a fun-filled, informative and productive session.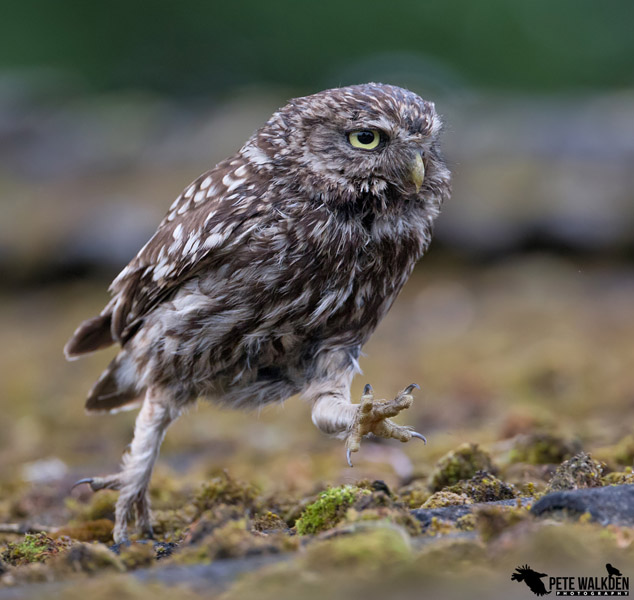 The little owl workshops primarily run from May through to late October.
The day is a workshop, not a "hide day" so Pete will be with you throughout the session, and will offer advice on images to try for and settings on your camera, set up perches for you, and also help encourage the owls to perform!
This enables you to concentrate on getting the shots, and not risk spooking the owls as you set things up or miss a shot when the owl arrives before you're ready!
Early in the season, when the chicks have hatched, the adults are busy collecting food for them, so will come down to the perches frequently. This is a good time to try for flight and running images, featuring the adult owls.
There is no fixed hide on site - you will be sat in Pete's car, so it can be moved around to best suit the light direction, the image you're after, a specific perch, or how close you need to be, based on your lens' reach.
As the roof is relatively low, the angle of it allows for shots of the owls as they run about on it from the comfort of a car seat.
Once the chicks have branched, usually in July, then the adults tend to do less work for them after a while, but of course there should be one or more fluffy owlets also visiting the perches, so will probably demand all the attention!
Late in September or possibly early October, the fledged owlets, now almost identical in terms of appearance to the adults, will leave the nest area to establish their own territories, and this is normally when the workshop season draws to a close, though the adult may still come down for much of October and even into November, though typically for shorter workshops (half day sessions).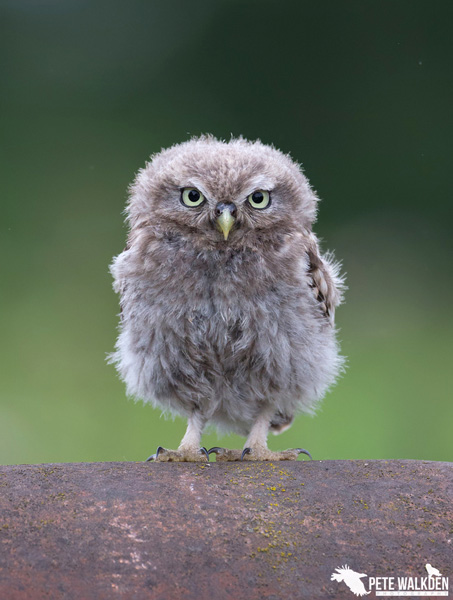 The farm is in Worcestershire, not far from junction 3 of the M42. Precise directions will be provided after payment is received.
There is ample parking on site (close by), and a portaloo toilet. It is advisable to bring a packed lunch if required.
This is a working farm, and the farmer makes a living from various activities. As the project is near the entrance of the farm, there will be disturbance from visitors to the farm, farmworkers, and the farmer himself.
Fortunately, the owls are fairly used to such issues, and aren't normally bothered by the people.
But remember, the owls are wild, not tame, so there is always the chance that they might not perform.
Most of Pete's images from the site have been taken with a full frame camera and 500mm prime lens. If you have a cropped sensor camera and a 300 or 400mm lens, you should be fine.
Equipment Checklist
Photography Gear - camera and lenses
Beanbag
Spare batteries and memory cards
Waterproof clothing - the rain can blow into the car at times.
Packed lunch and drinks
Patience... The owls aren't as easy to photo when moving or flying as you might imagine.
Perches - if you have a perch you would like the owls to land upon, bring it along.
Price
£200 for a 1-to-1 workshop
£250 for a 1-to-2 workshop (joint bookings only)
Maximum of 2 people per workshop
Full payment is required prior to the day
The workshop will normally be from about 8:30am through to 5pm, though this can vary depending on the time of year
FAQ
1
What happens if the owls don't show?
As Pete will be in attendance for the workshop, he will be able to determine whether your day has been a success, or if the owls have played hard-to-get. In such a case, Pete may offer another workshop at a discounted rate at his discretion.
2
What if I need to cancel the workshop?
Workshops can be cancelled, but any payments will not be refunded. The workshop date can of course be changed to one when you can attend, subject to Pete's availability.
3
If it's raining, will the workshop still continue?
Yes. Little owls are unusual in that unlike other owls, they're not bothered at all by rain. If anything, it helps them find some of their prey, such as earthworms, and you might also strike gold, and get to see them washing in the rain.
Gary M
---
Thanks again for a fab day with little owls just about sorted 100 pics out to keep and will narrow that down again soon. One pic up on Flickr and I've put a link to your web site hope that's ok?

Cheers,

Gary
Joss M
---
We both had a lovely time and I'm grateful to you for being flexible. Magnus has just posted some of the images on flickr - he found it hard to choose! He has credited you on these images - is that OK?

Let me know your thoughts. Thanks again, I am sure we will keep in touch.

Best wishes

Joss
Ruth R
---
Plane an hour late and a bit bumpy, but home now with lovely memories of a special day. I couldn't believe how close we could get to the owls, and that they weren't bothered by our presence at all….I loved the piercing glare through the windscreen at the tub of worms!

I have about 500 images to plough through now, one or two might be ok; but its only looking at them now that I wish I could come back today and try other ideas with them -guess it will have to wait for next year.

Thank you so much for your chauffeuring, ham-roll-making,kindness,patience and insults! I really appreciate the extra effort. Lovely to see you and catch up a bit too.

Best wishes

Ruth
Julie H
---
Thanks for this - & for an absolutely brilliant day today. I am thrilled with my images - & just seeing them all strutting their stuff along the roof....!

All the best,

Julie